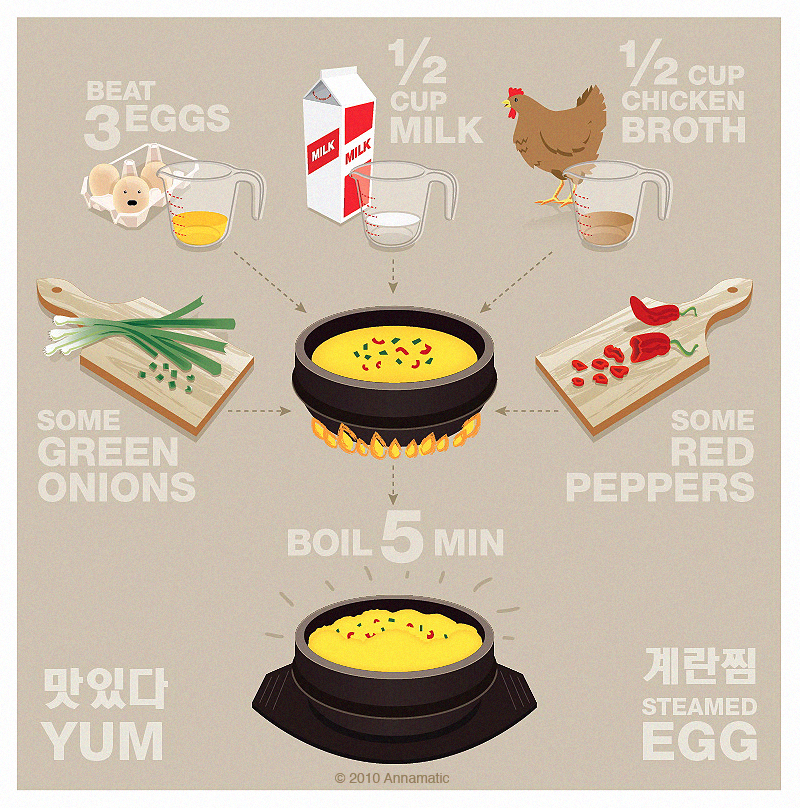 Lately, I've been doing some experiments in making steamed eggs. After a Flickr contact suggested that I try making one of my favorite Korean dishes, Gyeran Jjim (계란찜), literally "steamed eggs," at home, I Googled around and discovered that it was really quite simple to make.
In the past, I'd attempted my mom's Chinese version of the dish. In the Chinese version, one generally tries to make the surface of the egg come out flat and smooth, almost like glass. It requires some delicate measuring, and a long, slow fire under a water bath to gradually heat up the mixture of beaten egg and broth without bringing it to a boil — the kind of thing I normally botch because I'm 1) hungry, and 2) impatient.
It turns out the Korean version is actually not really steamed, but set in an earthenware or stone bowl (in Korean, a dolsot / 돌솥) right on top of the stove top and boiled into a textural burbling mass. A straightforward, home-grown, casual approach that is much better suited to my need for speed!
After some various experiments and tinkering with the recipe, I came up my favorite version. The traditional recipe for Korean Gyeran Jjim usually calls for anchovy paste to flavor the broth. I didn't have any on hand, so I used chicken broth instead. I'd also read that milk could be used instead of broth to give the steamed egg a nice almost-creamy texture. Ultimately I decided that a mixture of 1/2 milk and 1/2 broth is what gave the steamed egg the right balance of flavor and creaminess for me.
Recipes are kind of an interesting challenge in information design. Sometimes, a traditionally written recipe will work for me. Like when the dish simply requires mixing up specific amounts of different ingredients. But other times, when I'm a bit unfamiliar with the cooking process or preparation methods, I find a cooking video to be most helpful. Since cooking can often be a non-narrative process (after way too many kitchen mishaps, I still make often make the critical error of NOT reading a recipe through to the end before I begin), I like the idea of showing the entire cooking process in one big picture.
Anyway, here is a recipillustration for steamed eggs! Feel free to tinker with it to come up with your favorite version. The thing to remember is that you need to make a mixture of 2 parts liquid (whether it's all broth or some mixture of broth and milk or whatever) to 1 part beaten egg, by volume. The amounts (a 1/2 cup each) of milk and broth in the recipe above are for 3 average-sized eggs.
For a smooth consistency, I mixed all the liquids together with a handmixer. But you can just use a spoon. Another thing I tried was melting 2 slices of cheese into a little bit of the milk over the stove, and then pouring the melted cheese into the final mixture of egg & liquid before steaming. It gave the dish more of an "American" flavor. Next time, I might try the cheesified steamed egg dish again, topped with some slices of fresh tomato. Or maybe, I'll use a sugar & milk mixture to make it into a dessert, like I'd seen in some Chinese recipes. Hmm… So many variations to explore!
Here are some pics of the finished steamed egg.