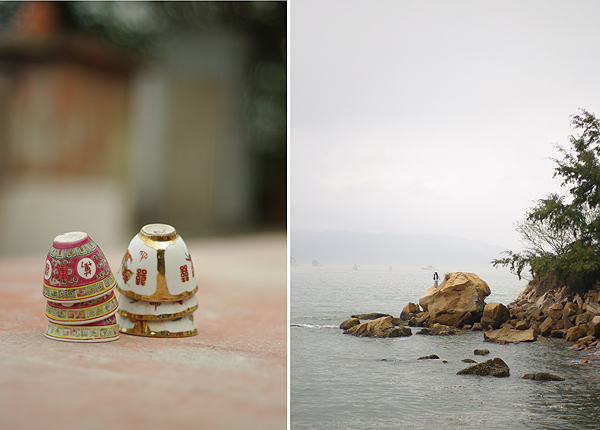 Hong Kong always leaves me wanting more. And like a lot of complex, layered metropolises, most anything that the guidebooks can say about it can be contradicted in the next breath. Hong Kong is congested and urban, except for its rustic fishing villages, pastoral hiking trails and isolated beaches. It's gritty and rough around the edges, except where it's hopelessly five-star chic. Capitalism and worship of the HK dollar rules the day, but superstition still plays an integral role in both business and culture.
With only three short visits under my belt (well, four, if you count the one when I was 12), I can't possibly write a comprehensive guide to Hong Kong. So I'll start by collecting some links and thoughts below — of a few places I've explored and places I will be exploring on my inevitable future visits.
See the Flickr photo set here >
Plus, I've geotagged them all! So you can see them all on a map here >
—GETTING AROUND—
It's THE way to fund your transport in HK. Pay a 50 HKD deposit and fill 'er up to pay for subways, busses, trolleys, taxis, ferries and more… Plus, you can get a 3-day unlimited pass at the Airport that also covers the cost of the Airport Express train into the city.
HK's subway is a clean, cool and speedy way to get around. Check out the online Journey Planner to see how long it will take to get from point A to point B.
Ferries will get you 1) between Hong Kong Island and Tsim Sha Tsui (although the MRT would be the faster, less scenic way to hop between Island and Peninisula); 2) between the Hong Kong Island Central Ferry Piers and the Outer Islands (Peng Chau, Cheung Chau, Lamma and Lantau); and 3) between Hong Kong Island and Macau.
Taxis are quite affordable in Hong Kong. Drivers speak mostly Cantonese and can often muster a few words of English and/or Mandarin, but if you're prepared with your address written in Chinese, you're good to go.
Hong Kong's historic double-decker trams still operate along the northern section of Hong Kong Island, connecting points from Sheung Wan (the the west) all the way to Shau Kei Wan (to the east). The $2 HKD fare is cheaper than taking the MTR.
—SLEEPING—
Hong Kong is short on space, and it can be tough to find an affordable hotel room that is larger than a shoebox. The Cityview is a nice business hotel for those of us who don't have plushy expense accounts. Great service, clean rooms, conveniently located (steps from the Yau Ma Tei station in Kowloon), and access to the adjoining YMCA's full range of fitness facilities.
For many, staying at the YMCA or the Salvation Army might sound a bit dicey, but in Hong Kong they are definitely well-priced options worth considering. The Booth Lodge is run by The Salvation Army. I stayed here a few years ago with my parents. It's relatively clean and affordable, but it appears that they haven't redecorated since Laura Ashley prints were all the rage in the 1970s.
Don't be fooled by those super-wide-angle photos on their website. This place is a cramped guesthouse with paper-thin walls and dodgy security. You could do much better….
I think I'll try these guys next time. They're centrally located in Tsim Sha Tsui, and their prices are decent if you don't stay in one of their themed rooms. Maybe they're riding the boutique design hotel wave, but they seem to be doing it in their own bizarre quirky style.
Their website's a little too-cool-for-school, but this hotel seems to be the contemporary pick for the style-conscious set.
—EXPLORING—
To make a geographic analogy with my hometown, Hong Kong Island is Hong Kong's Manhattan, home of the financial district, tourist attractions and chic restaurants, and Kowloon (the peninsula across the harbor) is Hong Kong's Outer Boroughs, where the city's long term denizens grew up, where they eat, live and play day-to-day. Perhaps that's why, even though English is lingua franca in Central and I'm familiar with many of the multinational chain stores and restaurants there, I've always felt a little bit more at home north of Tsim Sha Tsui.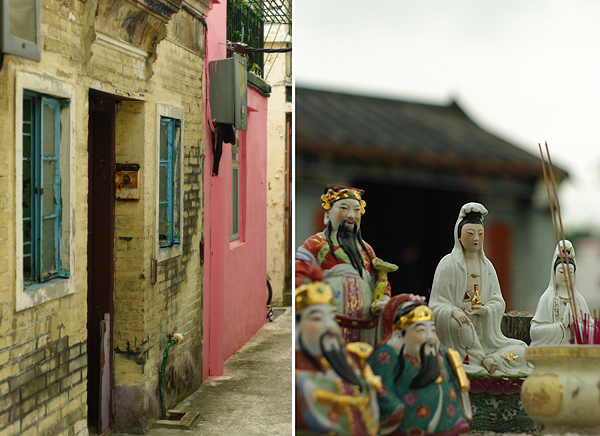 Kowloon
It's name literally means "nine dragons," supposedly referring to the sum of the area's eight mountain peaks + a Chinese emperor. Maybe there was once a day in the distant past when you could see the eight peaks from here, but now it would be impossible with all the tall buildings are in the way.
Almost 70 years ago, my mom lived in my grandma's seamstress shop on Pak Hoi Street. My father played hooky at a school on Public Square Street. Although Hong Kong has grown both upwards and outwards since those wartime days, the Hong Kong that I heard about while growing up centered around the congested Yau Ma Tei and Mong Kok areas of Kowloon. Time marches on and not everyone is as nostalgically inclined as I, so perhaps I'm the only one entertained by wandering through the area, searching for the perfect bowl of wonton noodles and the spirit of my grandma sewing cheongsam dresses for the neighborhood ladies. Nowadays, the Temple Street Night Market seems to be the main area draw for tourists. What can I say about Temple Street: 1) save your money for some of Kowloon's more interesting markets (whole streets dedicated to birds, goldfish, flowers, retro gadgets!) and 2) as for eating, my Lonely Planet rule applies: if it's in the guidebook, don't eat there.

Hongkong Apliu Street in Hong Kong
Outer Islands
Hong Kong actually consists of over 230 islands, some of which are mere uninhabited rocks and others of which are sleepy little isles that seem worlds away from the sky-scraping towers of Central. On this most recent trip to HK, we hopped on a boat from the Central Ferry Piers to Cheung Chau. Less than an hour later, we were pedaling on rented bikes down a seaside path. We whiled away the afternoon watching fishermen cast their lines into the waves from lonely beaches. We hiked up steep slopes to remote hillside temples. Cheung Chau is the polar opposite of crowded Mong Kok and makes for the perfect day trip, especially on weekdays when it is less crowded. Seafood restaurants line the waterfront near the pier and town's narrow alleyways are very charming.
Some other Outer Islands I want to visit include:
• Lamma Island, popular for it's seafood restaurants.
• Tiny automobile-less Peng Chau, where bikes are the way to get around.
• Po Toi, a small group of islands off the southeast end of Hong Kong Island rumored to have a haunted house!
Can  you tell I have a soft spot for small islands?
New Territories
In the olden days, apparently, people lived in walled villages because there were a lot of bandits, pirates and tigers to worry about. Anyway, there's very few of these walled villages left in Hong Kong, but you can walk through a few in the New Territories, about a 40 minute subway ride from Central. There is a good listing of heritage trails and maps at the Antiquities and Monuments Office website.
The Ping Shan (Tin Shui Wai Station on the West Rail Line) and the Lung Yeuk Tau (Fanling Station East Rail Line) heritage trails are very accessible on foot from their respective train stations.
If you don't want to wander that far from the city, the above website also has suggested self-guided walking tours of historical areas in the city center, right on Hong Kong Island in Sheung Wan and Wan Chai.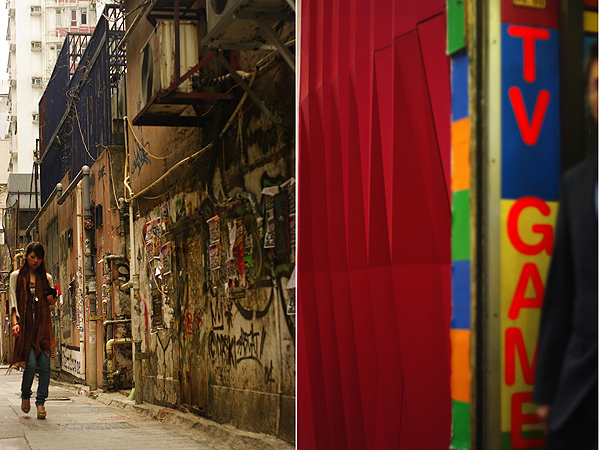 —GALLERY HOPPING
I only downloaded the free version, which was pretty sparse. I would assume that the paid version has more. It's especially helpful for the taxi guides, which come complete with addresses written in Chinese characters and map links.
is an industrial neighborhood located in the Sha Tin District near the Fo Tan stop in the New Territories on the East Rail Line. As factories have moved to China, the low-rent area has steadily been re-populated by artists' studios. Every January a selection of artists in the area throw open their doors for the Fotanian Open Studios. Area artists are often featured at Fo Tan's own Blue Lotus Gallery.
consists of some galleries (Artist Commune and 1a Space) and art studios housed in an old cattle slaughterhouse with historic designation. This appears to be Hong Kong's answer to Beijing's 798 and Shanghai's Moganshan Lu. However, it's managed by HK's Government Property Agency, who might not be the best people to run a cutting-edge art facility. Current rules in effect state that artists cannot paint the walls of their own studios, take photographs, decorate with plants, rehearse in the hallways or stay overnight. So… yeah. It was kind of dead when I went on a weekday. But you can pick up some guides to other art and culture events here.
is an art gallery and art education studio that provides canvas, paint and venues for "Art Parties"!
is an exhibition space run by the HK Arts Development Council and located in a shophouse with historic designation at 404 Shanghai Street.
is a multi-disciplinary artists' village housed in a converted decommissioned factory.
is a design-themed event platform for up and coming Hong Kong designers and artists, hosted every winter by HK's Ambassadors of Design.
—EATING
Some online guides
A Guide to HK Restaurants, searchable by cuisine, signature dish, district or name; with reviews, maps and addresses in both English and Chinese.
That means roast pork bun in Cantonese, but it's also a humorous HK food blog with great restaurant tips. And because his blog is so frighteningly difficult to navigate, here's a link to his Flickr HK Collection, which appears to have almost 500 photo sets in it. Try not to lick your screen.
Another lovely blog devoted to food in Hong Kong. A bit easier to browse through since the HK neighborhoods are listed in the sidebar. "Siu yeh" means a late-night snack in Cantonese.
Dim sum
When Cantonese people "yum cha" (go out for dim sum), it's generally a sort of loud, messy family affair consisting of groups of relatives or close friends. To be honest, I have never actually had a say in choosing a dim sum restaurant to dine at in HK, so I'm not too knowledgeable about what to recommend. Instead, I'll give you this list. On my next trip, perhaps I'll check out the the old skool ambiance at Lin Heung Lou (蓮香樓), an 80-year-old dim sum joint on Central Wellington Street. And if you need help knowing what to grab off the dim sum carts, there are some iPhone apps with picture menus. This one isn't half bad – it doesn't have Chinese characters, but it has the pictures and pronunciation, and doesn't require GPS if you, like me, only have a mere iPod Touch. And for the non-app-enabled, an online dim sum picture guide.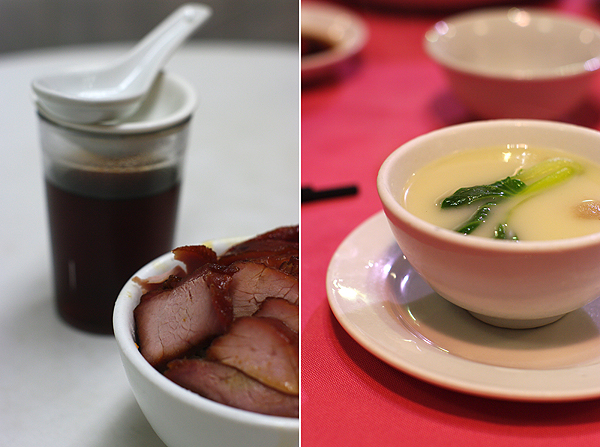 Hong Kong Snacks Guide
Several years ago, the Hong Kong Tourist Association put out a little pamphlet called the Hong Kong Snacks Guide. I can't seem to find a more up-to-date version anywhere, so I scanned in my tattered copy to share with you — you can download it here. It gives a good overview of some signature Hong Kong snacks, like congee, wonton noodles, fish balls, beef brisket, tea bistro (cha chaan teng) staples, street stalls (dai pai dong) and more. Well, ok, for many people these would be considered full meals, but I think in Hong Kong a snack might be construed as any meal you eat by yourself instead of with a table-full of relatives).
When you get right down to it, though, it's quite possible that all the research in the world won't really prepare you for the multi-layered, multi-faceted city that is Hong Kong. The best way to discover it is to just dive right in and keep on exploring….