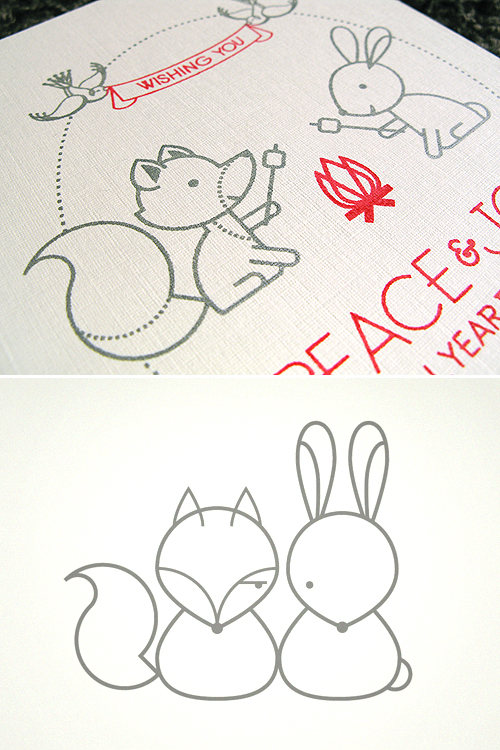 I had a little break from work this week so I thought I'd get a head start on doing my holiday cards. Can you believe it? I actually worked on my holiday cards BEFORE Thanksgiving this year! I'm kind of stunned myself.
It was a little rough going at first (the fox and the bunny had some trust issues) but I finally got predator and prey to sit down together and work out their problems. As I suspected, it mostly had to do with hunger on the fox's part, and not-wanting-to-be-eaten on the bunny's part. The problem was solved with marshmallows. Ladies and gentlemen, Fox and Bunny wish you "Peace & Joy All Year Round."
I used the Gocco machine to screenprint them with red and silver ink. I'll be sending the cards out to friends and family, but the few leftovers will likely make it into my Etsy shop, so keep an eye out for them if you want one!
In other crafting and Etsy shop related news…. Several months ago I pledged my May through September shop proceeds to help elderly Ethiopians who have been affected by HIV and AIDS. The result is a nice $400 check, earmarked to help elders, for the Missions to the World AIDS Care and Treatment Project. Thanks so much for your help!
The year isn't over yet, so I'm committing my October through December proceeds to help Aid to Artisans. They're an awesome organization that supports handmade traditions by connecting artisans in the developing world to markets in the developed world. If you need to do some holiday shopping and want to help a good cause in the process, come by the shop… I'll be updating it over the next month with new items… Here are some of the crafty things I've stitched/printed up so far.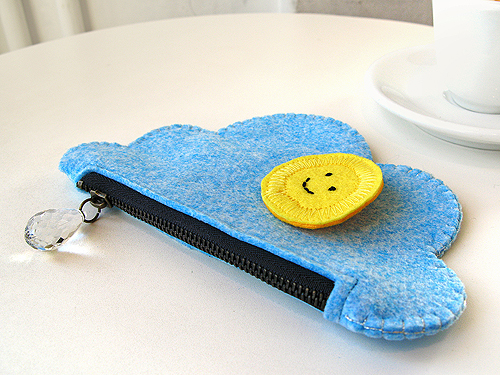 Make it rain money! The coin purses are stitched with silver thread for extra optimism, and each comes with two handmade felt pins, one for sunny weather and one for thunder-n-lightnin' weather.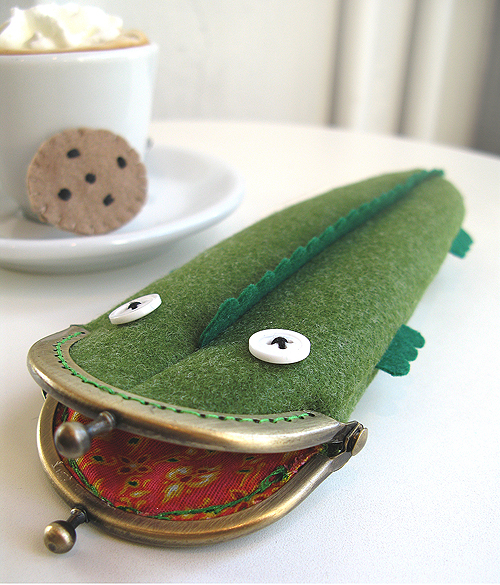 Alejandro is 3/4 friendly green lizard, 1/4 vicious alligator, and 100% hungry pencil case. He and purple Sally Salamander have a penchant for cookies. They each come with a hand-stitched felt cookie pin. Nom nom nom….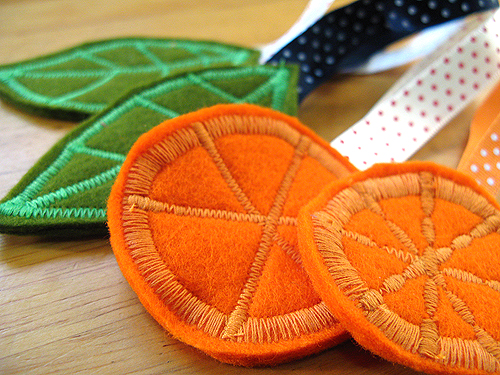 I'm almost done using up my previously ginormous craft supply stash, but I still have a fat bag of felt scraps. I think most of it will go towards making holiday ornaments. Not sure what the result will be (it mostly has to do with the color and size of the scraps) but for starters I have some summery oranges and leaves to hang on the Christmas tree….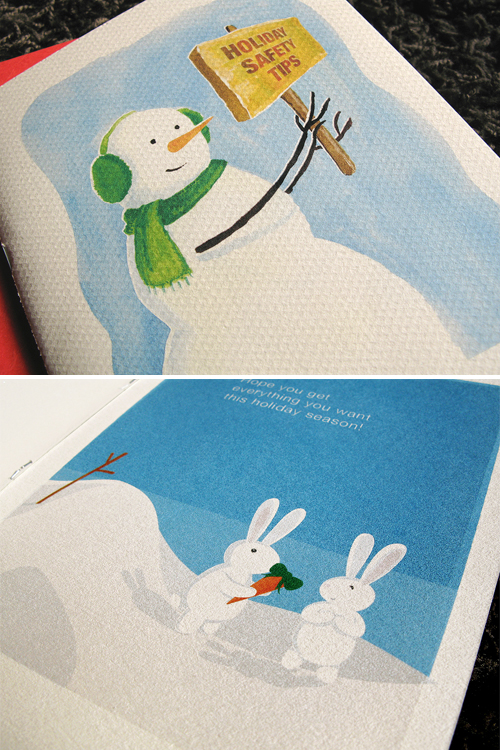 Now's as good a time as any to put some holiday cards in the shop… I dug through my storage and came up with some cards from as far back as 2005.Holiday Safety Tips and Everything You Want, both shown above, are greeting card / booklets, and there is only one set each. Also up for sale are some Gocco screen printed cards: Peace on Earth and Joy. They are in limited supply, so if you want a set, snatch it up!
DEAR SANTA:
Oooh, I want the L Letterpress Kit!
There's a giveaway over on i-DIY — enter a comment to win!
LINK DUMP:
Connectivity
Satellites in South Korea :: why Lee Si-kap owns more satellite dishes than any other South Korean
Blackboards in Africa :: analog blogging in Liberia
Internet Usage Around the World :: global map of who's using the internet and how much
Open your ears!
Music from a Tree :: tree as instrument, by Diego Stocco
Soundtransit :: book a ticket and travel with your ears
Smithsonian Folkways :: listening is an act of love
Sound Recordings by Tony Schwartz :: listen in on the past, through the recordings of an old pro
Imagination & Stories
Marco Polo Sightseeing :: paintings of Marco Polo as a modern-day traveler by Nora Sturges (full gallery here)
Significant Objects :: a project to test the value of a well-told story… using Ebay