Here's an overview of all the delicious food we had in Kyoto. If only Japan weren't so expensive, I'd go there every month!


Kaiseki dinner at Hiiragiya Bekkan [link: Flickr photos]
Kyoto is well known for its kaiseki [link: Wikipedia], a traditional multi-course dinner that has evolved to a form of high art that takes into account every aspect of the dining experience, from taste and aroma to color and presentation. Each course of a kaiseki dinner is made of local seasonal ingredients, and the small, but beautifully displayed, dishes are served at the perfect pacing so that the diner can savor each one by itself. Although there is a general format to what is presented and in what order, the rest is up to the chef's creative discretion, so every kaiseki experience is sure to be unique.
Ah, our kaiseki dinner at Hiiragiya Bekkan — I barely know where to begin! By the time we returned to the room from our evening bath, all refreshed, the host had set up our low dining table and arranged the cushions.
1. Tofu, yuba, sour plum, wasabi
The very first course was yuba, also known as tofu skin or bean curd skin, presented in a small, elegant crystal bowl. The yuba was freshly made, soft and silky, and arrived draped on top of a triangle of tofu. The contrast to this mellow and soothing flavor were the sour plum and wasabi which topped the arrangement.
2. Toasted rice, winter melon, sour apricot, lime
Secondly, we were served a refreshing broth in a black lacquer bowl. In the broth, the a ball of toasted rice, a sliver of winter melon, a sour apricot and a slice of lime, all continued the soothing vs. sharp juxtaposition of flavors set up in the first course.
3. Tuna, snapper and mackerel
Third, a small celadon saucer with three slices of sashimi arrived. The tuna, snapper and mackerel slices were topped with coarsely grated wasabi and a sprig of purple flowers. Our host showed us that the little blossoms (which I originally thought were just garnish) were for flavoring the soy sauce. Sniffing the little sprig of purple flowers, I found they had a strong perfume but a subtle and aromatic flavor.
4. Pan-seared sea bass, soft-boiled egg, pickled vegetable
For the fourth course, there was a broiled sea bass, served along a soft-boiled egg and pickled vegetables, beautifully arranged on a plate decorated with fish paintings. With this menu item, I was a little disappointed, for the fish was a tad overdone.
5. Octopus, sticky rice, beans
The fifth course was a very welcome small bowl of sticky rice topped with beans and grilled octopus. Somehow, I always crave some rice whenever I am having some kind of Asian dinner, I'm not sure why.
6. Lotus root, veggies, tofu
For the sixth course, there was a healthful medley of lotus root, vegetables and tofu presented in a rustic white ceramic bowl. The dish was sprinkled with some sesame seeds to add a textural crunch and a warm toasted flavor.
7. Eggplant, grated radish, tororo (grated mountain yam)
The seventh course was one of my favorites, an arrangement of eggplant, grated radish and tororo (grated mountain yam). The eggplant had a mellow flavor yet firm texture, and we enjoyed the meaty-savory-umami-ness of the slimy tororo topping.
8. Watermelon, peach, grape, mint
Then, a small palate cleanser of pickled vegetables was served before the final plate of fruits: watermelon, peach, a mint leaf and a grape.
But kaiseki wasn't the only thing we ate in Kyoto… For our other meals, we tried to spend less money…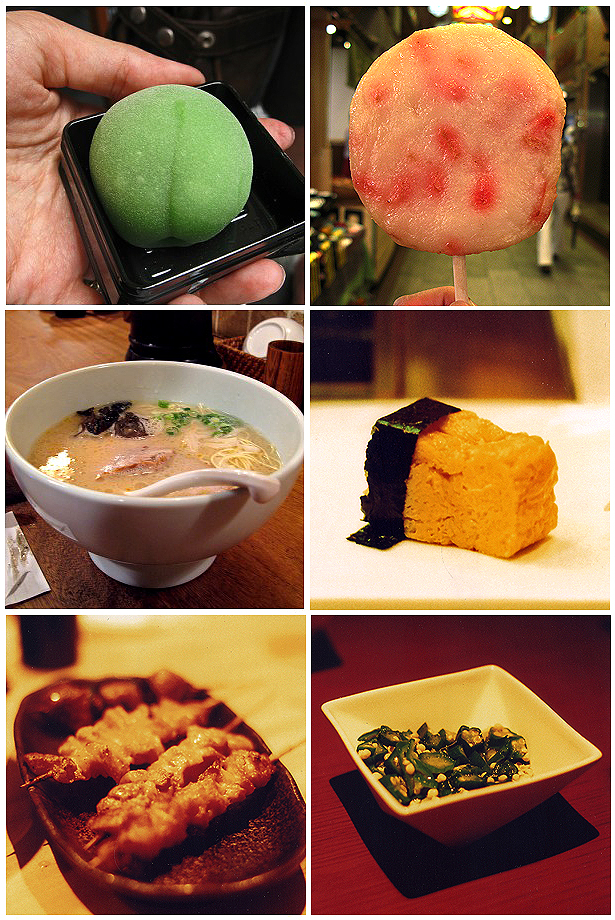 1 & 2. Snacks at Nishiki Market [link: Flickr photos]
We arrived Sunday afternoon in Kyoto on empty stomachs, so it was particularly hard to navigate Nishiki Market without pouncing on every free snack sample offered. A little pickled cucumber here, a little savory seaweed snack there — who can resist? Plus, there were fishcakes in every flavor, grilled eel on sticks, red bean filled plum mochi with textures as tender as baby bottoms, and colorful candies with cute designs. I was in heaven! But we reigned in our appetites, knowing that ramen noodles were our real lunchtime destination….
3. Ramen at Ippudo [link: Flickr photos]
Real Japanese ramen noodles were on the list of things we wanted to eat in Kyoto, so I carefully studied the recommendations on Bento.com and printed out some maps before our trip. Our research led us to Ippudo [link: Bento.com], a Hakata-style ramen specialist known for their especially rich pork broth. I had the Akamaru modern style ramen, with pork broth, simmered pork slices, bean sprouts, miso paste, fragrant garlic oil and Ippudo's "special sauce." The broth had a complex flavor with strong hints of sesame. Each table got it's own plate of raw garlic and a garlic press, so I topped off my noodles with freshly grated garlic. Gavin went for the classic style ramen noodles. The broth had a cleaner taste than the Akamaru noodles, but was still thick with pork flavor. The classic was definitely my favorite, a simple thing done really well. Though we were both very full from the noodles, we couldn't resist ordering a plate of pan-fried gyoza dumplings and a delicious Hakata roast pork bun to finish off our lunch. All in all, a wonderful meal with which to welcome ourselves to Kyoto! By the way, I absolutely love the cute, bitmappy animation and the beautifully illustrated menu watercolors on their website.
4. Sushi at Sushi-sei
Sushi-sei is located on the 11th floor of the Isetan Department Store, right near Kyoto Station. Having read that they serve Tokyo-style sushi from a well regarded shop in Tsukiji Market, we headed there for an early dinner. Sitting up at the sushi bar observing the friendly banter that goes on between the sushi chefs and their regular customers, I really wished that I could speak Japanese. As it was, we made do by pointing at the picture menu and ordering some very fine uni, tamago, tuna and yellowtail sushi a la carte.
5. Yakitori at Kokekokko
Also in the Isetan Department Store, on the 10th floor, Kokekokko is a charcoal grilled skewer joint with chic decor and a grand sparkling nighttime view of Kyoto. Actually we were more concerned with the view of the charcoal grilling action so we sat ourselves at the bar and ordered some skewers with different chicken parts, including gizzard and thigh. Especially delicious were the cherry tomatoes with bacon-wrapped bocconcini mozzarella. And if you like mountain yam, their salad comes with a large bowl of slimy tororo dressing! Kokekokko boasts that their skewers are grilled with special Bincho-charcoal, yielding crispy on the outside and juicy on the inside deliciousness.
6. Bar food at Shirokiya
Our last stop of the night was recommended to us by the desk clerk at the Hearton Hotel Kyoto, as a cheap but delicious izakaya. At Shirokiya, near Karasuma Oike, we had our cheapest meal of the evening, and helped ourselves to fried wonton skins with cheese and an okra salad. Finally it was time to call it a night and head back to the hotel.
Actually, our time in Kyoto didn't turn out to be toooo expensive, since we were rather protective of our wallets when searching for places to eat. But if you are are going to Kyoto fully prepared to spend a lot of cash, there is a whole 'nother world to be discovered, a legendary level of haute cuisine that Gavin and I have yet to experience. Next time I'd love to indulge at the much-fussed about Kikunoi (traditional kaiseki) and Okumura (French(!) kaiseki), or to dine, on the more casual end of the scale, at beef specialist Gu Hyo and unagi (eel) experts Kaneyo. All four restaurants, and other great-sounding finds, are reported in Chubby Hubby's Kyoto Guide 2009, which I sooo wish he posted BEFORE our June trip!