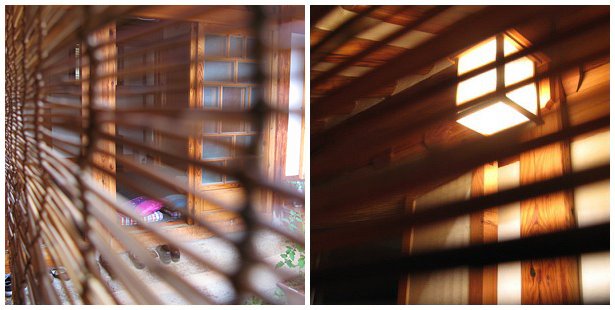 1. New house day, 2. New house night
May and June turned out to be kind of hectic months for us. The owners of the house we were renting suddenly sold it, and the new owners wanted to move in, giving us 3 weeks to scramble for a new place to stay. Add to that the fact that we were leaving for vacation in a week when we heard the news, and you can understand why we were kind of in a panic.
Luckily, in Korea, everything that can be done, can be done quickly. It's the "bali bali" (Korean for "speedy, speedy") curse, but it's also a blessing. We knew that we wanted to continue living in a traditional Korean house, so within a week a real estate agent showed us a flurry of "hanok," we fell in love with one of them, Gavin's firm handled the details and we signed the lease.
The week we were to move coincided with the largest protest that Seoul has seen in two decades, and since we were moving to a neighborhood near the President's Blue House, roads were blocked every night and traffic was mayhem. The owners of our new home only just managed to move out before the police blockaded their area, but they didn't have time to clean. We spent the night before moving day cleaning the new house from top to bottom.
In Korea, moving companies offer a packing and cleaning service as well. What a godsend! On moving day, two men and an ajumma (a middle-aged Korean woman) arrived at our old house with boxes and crates. The ajumma immediately set to work in the kitchen, taking all the contents out of the cupboards, packing them into crates, wrapping plates and breakables, wiping the kitchen down. The men packed our wardrobe and drawer contents into plastic boxes. In our new house, everything went back into the kitchen cupboards and drawers in the same order. They started at 8:30 am at the old house, and finished by 1 pm at the new house. It was amazing! I wish moving companies did this in the States. Here are some photos of the new house. I'll post more as soon as I get it looking homier…
1. Elephantasy Journal, 2. Elephantasy Card
3. Sir Hamilton, 4. Goggles

Amazingly, I was able to get some crafty stuff done during this mayhem.
Elephantasy is an illustration that I sketched out ages ago that I Gocco screenprined onto some journals and greeting cards. The journals are made out of handmade mulberry paper that I bought in Luang Prabang, sewn with hand-spun and dyed silk thread that I also picked up in Laos. I've posted them on my Etsy shop, so go take a look.
Sir Hamilton is a flying pig with high hopes to become your favorite iPhone / iTouch cozy ever. And Goggles is… well Goggles is a mutant-3-eyed-frog iPhone / iTouch cozy. It's happened; increased pollutants in the air and water (and an exhausted slightly delirious Annamatic) have given Goggles one more eye than his fellow frog cousins. He's a bit self-conscious about it, so try not to stare. Goggles and Sir Hamilton will be making more appearances in my Etsy shop soon, so keep checking back.
Linky stuff that I've bookmarked over the past month (sorry, but I've forgotten where I've gotten most of these links… it's been awhile…):
some never-ending web interfaces that i'm loving:
>> helloworld from softbank
>> good things should never end from the orange network
music in unexpected places:
>> the super mario theme played on bottles by a remote control car
>> david byrne turns an abandoned building into a musical instrument
unwanted home improvements?
>> repairing broken spiderwebs
>> snail shell painting

too cute to eat
>> marzipan characters
>> sushi art