Many moons ago, we spotted a little hand-crank ice cream maker in a shop in Causeway Bay. It didn't cost much, so we snatched it up and now keep the bowl in the freezer so that whenever ice cream inspiration strikes, it's ready to go. I have to say that this is probably the best impulse buy we've ever made. What a great way to experiment with ice cream flavors and get a little adventurous! Once you taste fresh homemade ice cream, with it's clean flavors uncluttered by additives and fillers, you won't want to go back…
Let's start with a pretty standard ice cream flavor. Do you have fresh blueberries on hand?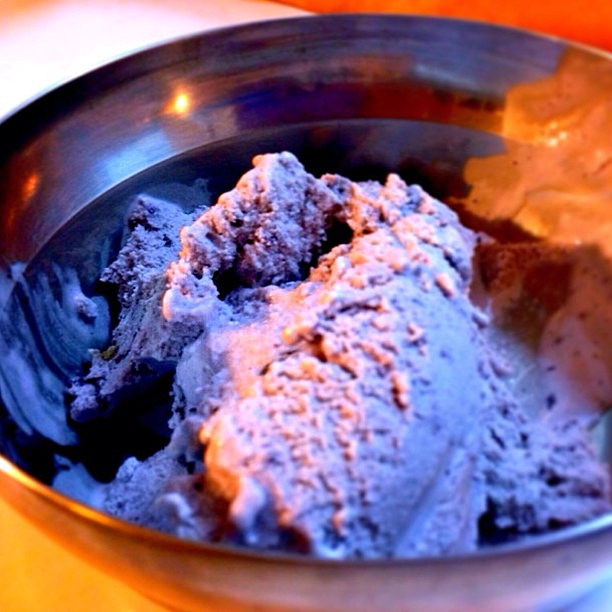 1/2 cup milk
1/2 cup fresh cream
1 egg, beaten
1 Tbsp honey
3 Tbsp blueberry jam (I like the St. Dalfour brand because it doesn't have processed sugar or additives)
1/3 cup blueberries
Put all the ingredients except for the blueberries into a bowl and stir. Pour the mixture into frozen container and crank the handle. It might take 30 minutes. When the mixture gets hard, add the blueberries. Scoop into a serving bowl. Mmmm…
Ok, now for another flavor. I'm used to seeing orange sorbet on dessert menus, but not orange ice cream. That's a shame because oranges and cream are two tastes that go hand in hand! Tangy citrus sweetness offset by smooth rich creaminess…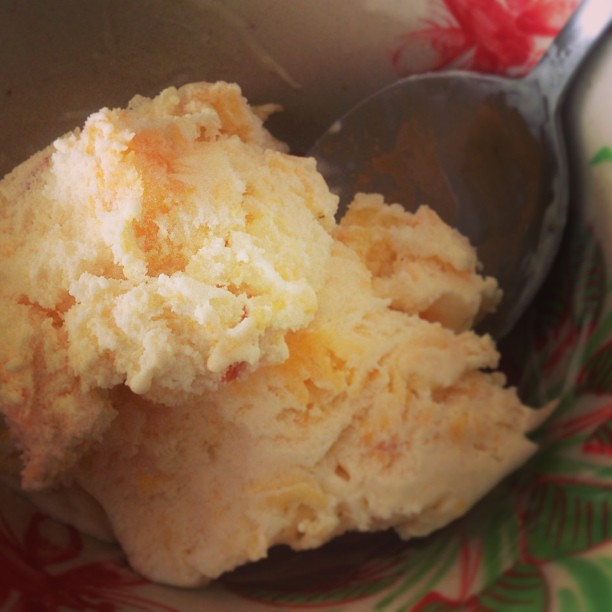 1 orange (about 100g)
4 Tbsp marmalade with orange peel (I like to use the St. Dalfour brand)
1/3 cup fresh cream
2-1/2 Tbsp condensed milk
Take the fruit of the orange and cut it into small pieces. Mix with all the ingredients. Pour the mixed ingredients into the frozen container and turn the crank until the mixture gets hard. Transfer the mixture to a container for storage and freeze for about 1 or 2 hours. Scoop the ice cream into a serving bowl. Nom nom nom…
And now for something a little different…. Depending on where you live, it might be hard to get your hands on purple sweet potato. If so, don't hesitate to try another kind of sweet potato, or pumpkin, or yam!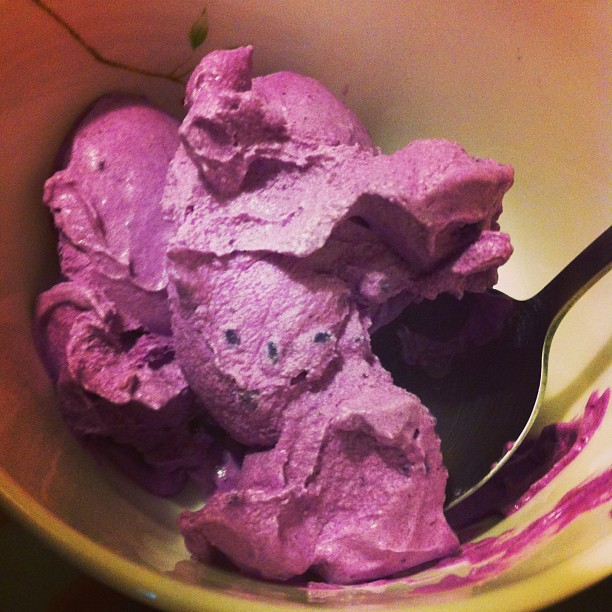 Purple sweet potato (medium size, about 100g)
1/5 cup whole milk
1/2 cup fresh cream
2 Tbsp honey
Steam the sweet potato until it's very soft and remove the skin. Cut into small pieces, mash with a fork and mix thoroughly with the milk (you can also use a blender for this part). Add the other ingredients and stir. Pour the mixture into the already frozen container, and crank the handle until it gets hard. Scoop the ice cream int a serving bowl. Chocolate chips or mini marshmallows make great add-ins. Or if you decided to make pumpkin ice cream, don't forget to sprinkle with cinnamon! Soooo goood!
Now for something a bit more exciting… How about combining the gorgeous mellow flavor of a ripe avocado with a nice kick from a tiny bit of wasabi? It's a really intriguing combination….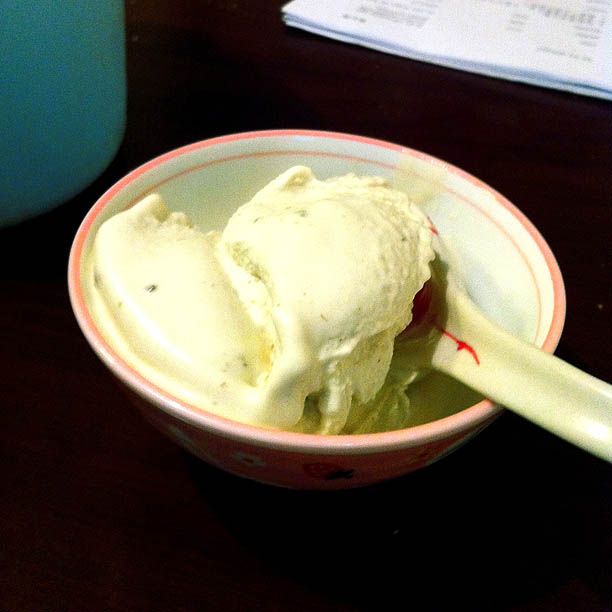 1/2 cup whole milk
1/4 cup sugar
1/2 cup fresh cream
1 egg, beaten
1 small ripe avocado, mashed
1/4 teaspoon wasabi paste
Pour the milk and sugar into a bowl, and mix with the egg and fresh cream. Pour the entire mixture into the frozen container and crank the handle. When the mixture gets hard, add the mashed avocado and wasabi and continue to crank until well mixed with good texture. Scoop into serving bowl. Get ready for that surprise wasabi kick!
And finally, the ice cream flavor that started it all… Many years ago, I heard a song called "White Pepper Ice Cream," by Cibo Matto. It planted a seed in my mind. I couldn't stop wondering white pepper ice cream might taste like. Finally we could try it out.
Unfortunately I can't find the original recipe that we used online. I remember the flavor being a lot milder than I expected, but having a kind of slow burn that mounted so that by the 5th mouthful you could taste the pepper gaining strength. I quite liked it and found the flavor refreshing, sort of like ginger. Here's one from The New York Times that sounds like it would be good too. It requires a little bit of time on the stovetop. We'll definitely be giving this one a go again!
{ 0 comments }